AGENCY WORK HIGHLIGHTS
Our Partnerships team secured an in-game integration with Ford for Ubisoft's "Riders Republic," a massively multiplayer open-world sports game set in seven American National Parks. Ford has been integrated into the game as an in-game sponsor for the game's career mode, meaning that player progression will unlock Ford branded rewards such as gear, outfits, and cosmetic items. In addition to the in-game sponsorship and native course branding, Ubisoft also created The Fearless Ford Adventure Tour, an in-game mission players can complete to earn stars and XP. While players roar through the trails and bumpy canyons of The Fearless Ford Adventure Tour, Ford Motor Company and the Bronco Wild Fund will be donating to American Trails, a non-profit organization which helps "maintain and enhance the places we ride in real life." The integration began October 28 and is ongoing. See more information on the American Trails and Ubisoft sites.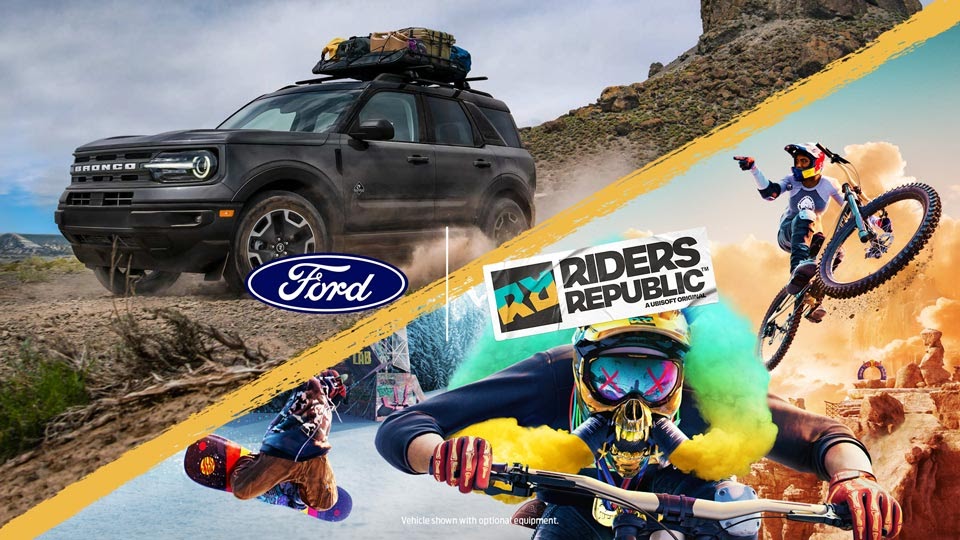 KEY FACTS RELEVANT TO OUR BUSINESS
Ad Vendors / Platforms
Apple's decision to change the privacy settings of iPhones caused an estimated $9.85B of revenues to evaporate in the second half of this year at Snap, Facebook, Twitter and YouTube, as their advertising businesses were shaken by the new rules. (FT)

Amazon shared a flurry of advertising updates in late October: Twitch livestreams will now support sponsored display ads around its core livestreaming offering which reaches 30 million average daily visitors. (Marketing Dive)

Pinterest is launching a live shopping series, Pinterest TV, today. The series will star Pinterest creators and feature QVC-style episodes in which viewers can use special discounts to buy from brands including Patagonia Inc., Allbirds and Outdoor Voices. (The Verge)

Yahoo said it plans to pull out of China due to what it called an "increasingly challenging business and legal environment." The company had previously downsized operations and closed its Beijing office, and is the second U.S. firm to fully withdraw from China after LinkedIn said last month it would close its operations there. (AP)

For the first time, Instagram will make up over 50% of parent company Meta's $50.30 billion in net ad revenue in 2021. Ad growth for both platforms is driven by similar factors, including more ecommerce and retail ads and more investment into direct response video ads. (eMarketer)
Awards / Festivals
The 2022 Golden Globes don't have a TV home, but the Hollywood Foreign Press Association said last week the show will go on. The 79th annual trophy show is set for Sunday, January 9, but exactly how and where the awards will be presented remains undetermined. (Deadline)
Cinemas / Theatrical
October box office in North America was bountiful, with movie ticket sales hitting an estimated $637M. It was buoyed by the likes of Venom 2 ($190M), No Time to Die ($133M), Halloween Kills ($86M), and Dune ($69M), scoring the most monthly revenue since the pandemic, although it doesn't break October records overall. (THR)

Dune stayed at No. 1 in its second weekend as expected with $15.5M from 4,125 theaters for a 10-day domestic total of $69M. Halloween weekend is traditionally quiet at the North American box office, although Halloween Kills held second spot in its third weekend with $8.5M from 3,616 screens. (THR)

However, No Time to Die has retaken the UK-Ireland box office lead from Dune, and looks poised to overtake Avengers: Endgame in the U.K., taking the fifth spot on the list of highest-grossing box office releases of all time from Marvel's superhero blockbuster. (THR)
Live Events / Attractions
USA Today named Allied client Dollywood as one of the10 best US family resorts with kid-friendly perks. (USA Today)

Kiss has canceled its upcoming Las Vegas residency. The band was booked to play 12 shows at Planet Hollywood starting the week of New Year's Eve, and extending into February 2022. Live Nation, which was producing the shows, has confirmed the Vegas run is canceled, though reasons have not been disclosed. (Billboard)

Warner Bros. World Abu Dhabi stars in a new music video from the international pop group Now United, which includes 18 performers from 18 countries. The video for "Future Me" was filmed in the indoor theme park's Gotham and Metropolis lands, with the finale taking over Warner Bros. Plaza. (Theme Park Insider)
OTT / Streaming
Omdia earlier this year reported that the US had experienced a drop in the number of online video services used per online video user from an industry high of 7.23 in November 2020 to 7.06 in April. Other markets such as the UK, Japan and Brazil are all still trending upwards. (Digital TV Europe)

Amazon is reshuffling its Prime leadership to focus on international growth. The marketplace giant has moved its Prime team under Russell Grandinetti, Amazon's SVP of international business, as the US market has become saturated. (Insider)

Netflix released five games last Wednesday on its Android app including Stranger Things 1984, Stranger Things 3, Shooting Hoops, Card Blast and Teeter Up. Poland, Italy, and Spain were the first countries that got to sample the games; last week's release was worldwide. (The Streamable)

Snap Inc. and NBCU inked a deal to make audio clips from TV shows and films, including "Saturday Night Live" and "Bridesmaids," available for Snapchat users to include in messages. Snaps including the audio clips will give recipients a link to the title's streaming platform. (THR)

The "Real Housewives" franchise is going to Dubai. Although there are 15 international versions of the show, set in places such as Australia, Brazil and Hungary, this is the first non-U.S. "Housewives" series to be produced by Bravo. (LA Times)
Retail / Lifestyle / Travel
With the exception of business travel, Trivago officials say travel will be back to a semblance of normalcy by next spring or summer. (Skift)

Nike filed four requests with the U.S. Patent and Trademark Office to trademark its brand for "downloadable virtual goods" such as clothes, shoes, eyewear, bags and sporting goods. The requests lay the groundwork for Nike products to appear in the metaverse. (Bloomberg)

Burger King Royal Perks members who make a qualifying purchase via the BK app, BK.com or a restaurant will receive a prize code for a chance to win various cryptocurrencies in the Robinhood app. The chain will give away 20 Bitcoin, 200 Ethereum, and 2 million Dogecoin. (Marketing Dive)
Social Media
You can now install an official TikTok app on Amazon Fire TV. It's available in the US and Canada and will be coming soon to Amazon Echo Show devices. The Amazon Fire TV TikTok app will serve up videos in an autoplay mode. (digitaltrends)

Three in five US internet users say discounts are what influence them to buy a product through social media ads, far more than the 44% who cited a brand's trustworthiness. Meanwhile, 34% said they are swayed by how eye-catching the ads are, making visuals the third most significant driver of purchases via social media advertising. (eMarketer)
Music / Audio / Podcasts
As of November 2, Apple has another big partner for its paid podcast channels: BBC Studios. Unlike other subscription products, which mostly offer perks like ad-free listening for existing audiences, this channel will give US and Canadian listeners access to shows that were previously only playable in the UK. (The Verge)

Amazon Music started rolling out automatically generated, synchronized transcripts on both iOS and Android in the US starting November 2. The transcripts will match the audio you're hearing, and you can toggle to jump to specific parts of the audio. The transcripts are interactive and can be viewed full-screen or on top of the album art within the app. (The Verge)
Video Games
Australia-based startup Splash, a developer of an AI-powered Roblox game which lets players create music and perform to live audiences in virtual venues, has raised USD $20 million in Series A funding. The round was co-led by Amazon's Alexa Fund and BITKRAFT Ventures. (Music Business Worldwide)

Fortnite is calling it quits in China. The wildly popular battle-royale game, developed by Epic Games, will shut down its local Chinese version on Nov. 15, according to an update on its website. Users were prevented from registering for new accounts starting Nov. 1. (CNBC)
Want your recent project to be featured in next week's agency updates? Please send an email with a short description of the campaign you worked on to the following link.